Where The Rich Live! According to The ABS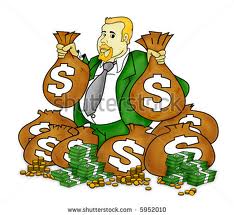 Thanks to Cara Waters from Smartcompany.com.au who wrote this article, my feeling would be theses numbers are a little lower on the income side than I would have thought!
Residents of ritzy Melbourne suburb Toorak are Australia's highest wage earners, taking home an average estimated income of $132,252.
This was followed by the Sydney suburb of Double Bay-Bellevue Hill, colloquially known as "double pay" where residents recorded an average income of $129,116.
Figures published yesterday by the Australian Bureau of Statistics set out the average highest and lowest earning suburbs in each state for 2009-2010, revealing that residents of exclusive inner city suburbs are raking it in compared to the average Australian income of $48,530.
ABS director of the Rural and Regional National Statistics Centre, Lisa Conolly, said the figures – based on data from the Australian Taxation Office – provide a breakdown of information such as personal income by wage and salary, investment, superannuation and annuities.
"From a state and territory perspective, the Australian Capital Territory recorded the highest average total income of $58,034. This was followed by Western Australia on $53,397. New South Wales was ranked fourth", said Conolly in a statement.
In Victoria, Toorak's record income was followed by Brighton on $101,776, East Melbourne on $95,349, Albert Park on $91,871 and Armadale on $89,534.
The top earning suburbs in NSW, following Double Bay-Bellevue Hill, are Mosman on $126,956, Hunters Hill-Woolwich on $123,956 and Woollahra on $123,869.
In Queensland, the inner city suburb of Ascot recorded the highest average total income in Queensland on $90,945, followed closely by Hamilton $90,900, then Bulimba, Hawthorne and Bardon.
The top earning suburb in South Australia is Adelaide suburb North Adelaide on $75,574, Walkerville on $74,296, followed by Glenside-Beaumont, Roxby Downs and Unley-Parkside.
Perth's beach side suburb of Cottesloe has the highest annual average income in Western Australia of $113,892, followed by Nedlands-Dalkeith-Crawley on $106,981, City Beach on $102,971 and Mosman Park-Peppermint Grove on $99,609.
In Tasmania, Sandy Bay, south of Hobart, has the highest average total income on $59,002, followed by Mount Nelson-Dynnyrne on $54,660, Taroona-Bonnet Hill on $51,476, South Hobart-Fern Tree on $51,129 and Hobart on $50,740.
In the Northern Territory, the three highest incomes were located outside of the Greater Darwin area with Anindilyakwa on $73,480, Nhulunbuy on $63,985 and East Arnhem on $63,955. These three regions were followed by the Darwin city suburbs of Stuart Park on $60,979 and Fannie Bay on $60,976.
The top earning suburbs in the Australian Capital Territory are Red Hill on $87,496, Forrest on $87,488, Griffith on $87 473, Deakin on $80,251 and Yarralumla $80,238.
Top 50 areas in Australia by income
| | | |
| --- | --- | --- |
| Toorak | VIC | 132,252 |
| Double Bay – Bellevue Hill | NSW | 129,116 |
| Mosman | NSW | 126,956 |
| Hunters Hill – Woolwich | NSW | 123,869 |
| Woollahra | NSW | 120,199 |
| Dover Heights | NSW | 115,387 |
| Rose Bay – Vaucluse – Watsons Bay | NSW | 115,148 |
| Cottesloe | NSW | 113,892 |
| Nedlands – Dalkeith – Crawley | WA | 106,981 |
| City Beach | WA | 102,971 |
| Willoughby – Castle Cove – Northbridge | NSW | 102,791 |
| Brighton (Vic.) | VIC | 101,776 |
| Paddington – Moore Park | NSW | 100,337 |
| Mosman Park – Peppermint Grove | WA | 99,609 |
| Balmain | NSW | 98,734 |
| Lindfield – Roseville | NSW | 97,633 |
| North Sydney – Lavender Bay | NSW | 97,038 |
| East Melbourne | VIC | 95,349 |
| Gordon – Killara | NSW | 94,339 |
| Albert Park | VIC | 91,871 |
| Ascot | WA | 90,945 |
| Hamilton (Qld) | QLD | 90,900 |
| Claremont (WA) | WA | 90,534 |
| Swanbourne – Mount Claremont | WA | 90,517 |
| Armadale | VIC | 89,534 |
| Cremorne – Cammeray | NSW | 88,512 |
| Terrey Hills – Duffys Forest | NSW | 87,676 |
| Red Hill (ACT) | ACT | 87,496 |
| Forrest | ACT | 87,488 |
| Griffith (ACT) | ACT | 87,473 |