Warning – Telephone Scam Offering Cash Payment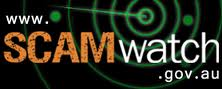 A former colleague emailed me the following Scam alert. "The following note comes from Ken, a retired banking colleague of a friend of mine:
Telephone Scam Offering Cash Payment
Case 1
A retired friend of mine has emailed this story about a CBA colleague (Keith) received a telephone call purporting to be from Westpac Head Office, advising him that he was to receive a cash repayment for overcharged fees.
Being a retired officer of the Bank, Keith does not pay fees. However the caller did though know his Mastercard number!
The caller advised Keith that on the following day, he would receive a further telephone call from the Office of Fair Trading. He was also given a code number that the caller from the Office of Fair Trading would identify themselves by.
The call was duly received the following day. Keith was advised that a sum of $11,000 was payable to him. All he had to do was to pay $1,000 in tax up front. This led nowhere, as the caller could not convince Keith he was genuine.
Keith then spent hours trying to advise some responsible authority. Scamwatch responded. They said they knew of the scam, and were taking action.
Case 2
The day after Keith's incident, my daughter received a similar telephone call from someone stating they represented a Government Department that was issuing random grants from the Government.
She also was given a code and advised that she would receive a second call.
When the second call was received, an amount of $9,000 was offered.
There seems to be a lot of these scams about.
If you receive a call like this you can advise the ACCC on: scamwatch.gov.au