Top 4 Travel Destinations Where The Australian Dollar Works Hardest
The high Australian dollar means there's rarely been a better time to travel. Did you know that The Finance Guru is proudly supported by OZFOREX who offer great deals to our readers click on the box on your right to register for free!
Back to the travel! So not only are airfares, accommodation and transport more affordable, but your increased shopping power will net you all types of bargains.
But while it's true that the Australian dollar is up for most destinations, there are a few that really stand out.
In order, here are the best places to holiday if you want your dollar to work the hardest:
1. Europe
Three years ago in April 2009, $1 Australian would buy you 0.55 Euro.
Today, it'll buy you 0.79 Euro – an increase of more than 43%.
From Paris to Berlin, that's a massive jump in your spending power. Travellers can thank a lack of confidence in the Euro as a result of problems in Greece, Spain, Portugal and other European countries for the bump.
2. The United States
The United States has long been considered a good destination for bargain travel, and the high dollar makes it even more so.
Three years ago, $1 Australia would net you 72 US cents.
Today, you'll get around $1.04 – a leap of about 42%!
That's because the US dollar has weakened as a result of their economic trouble, while ours has improved thanks to our close links with Asian economies, especially China.
3. The United Kingdom
While not gaining quite as much as it has on the Euro and the US dollar, over the last three years the Australian dollar is still up an enormous 33% on the pound.
That still might not make a notorious London latte good value, but it's certainly a great boost for Australians visiting the UK, whose own economic troubles – and links to Europe's woes – have devalued the pound.
4. Thailand.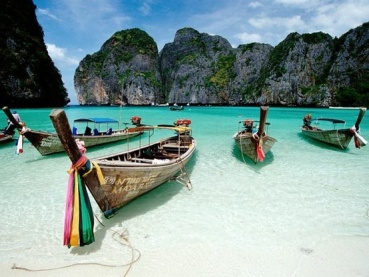 Closer to home, many Australians will be pleased to hear that the next best destination when it comes to value is Thailand.
In 2009, you'd get about 25 baht for your dollar. Today, you'll net about 32 – a rise of almost 24%.
Whether it's the resorts of Phuket or Bangkok's busy streets, value is there to be had.
Indeed, from South Korea (up 23%) to Malaysia (up 22%) the Australian dollar has been outperforming most Asian currencies – even Japan (where it's up 16%) whose currency has become regarded by many as an attractive 'safe haven'.
Time for travel!
The great advances the Australian dollar has made in the last three years mean that – as many Australians have already concluded – now is a great time for an overseas adventure.
And by choosing Europe, the US, the UK or Asia, your holiday dollar will deliver even more value.
Carly Pickering is a specialist with OzForex. This information is not intended to constitute financial advice of any kind.