Self Managed Super Funds Rate At Number 1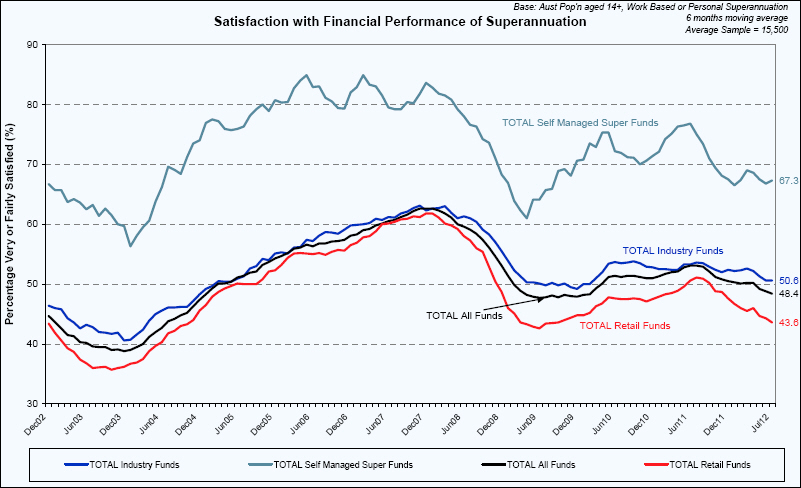 Satisfaction with the financial performance of Industry Super Funds in July 2012 was 50.6%, well ahead of the 43.6% shown by Retail Funds, but still below the 67.3% of Self Managed Funds. Over the last 12 months Industry Funds has increased their lead over Retail Funds from 2.5% points to 7.0% points. These are the latest findings from the July 2012 Roy Morgan Research 'Superannuation Satisfaction' report.
The top twelve best performing super funds for member satisfaction were all Industry Funds, lead by ESS Super on 75.2%, followed by Catholic Super on 62.4%. The best retail fund was BT with 47.6% satisfaction which was in fact below the industry average of 48.4%.
In the 6 months to July 2012, overall Superannuation Satisfaction has fallen by 1.9% points to 48.4%, with declines in Retail fund satisfaction (-3.1% points to 43.6%) and Industry fund satisfaction (-1.6% points to 50.6%). Bucking the trend has been Self Managed Super, increasing by 0.8% points to 67.3% in the last 6 months.
Norman Morris, Industry Communications Director, Roy Morgan Research says:
"With growing competition between the Industry and Retail Funds sector for market share and the rapid expansion of the SMSF sector, satisfaction with financial performance is increasingly a factor that fund managers should be taking notice of. Our research shows that there is a strong correlation between satisfaction with superannuation financial performance and the likelihood of switching funds.

"The ease of switching super funds and the increase in people using self managed super funds means that the retail sector will increasingly rely on their adviser network and advice to retain customers, but at the same time be acting in the best interest of their client."
Roy Morgan Research also collects information on the intention to switch super funds and the reasons given and the destination of fund flows, providing a picture on the market from the customer point of view.